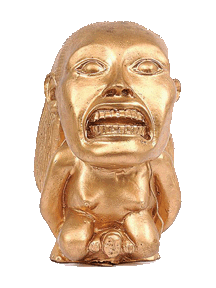 Art |Autographs |Collections |Forums |Library |Map
Other sites |

| Products |Prototypes | Trade Lists | Want Lists

05 January 2011
Posted 22:30 by Les
Karen Hinson shares her latest sketch - a wonderful rendering of Marion Ravenwood -

03 May 2010
Posted 22:30 by Les
Chris L. shares some of his latest artwork -


04 May 2008
Posted 20:30 by Les
Clyde Caldwell (formerly of TSR) shares the art he did for the TSR Indiana Jones roleplaying game and add-on modules.

08 March 2008
Posted 19:30 by Les
Tony Harris shares the cover art he did for the Dark Horse comic "Indiana Jones and the Tomb of the Gods" coming June 29th.

03 March 2008
Posted 07:30 by Les
Jerry Vanderstelt shares some of his images he painted for the Hasbro upcoming toy line.

21 February 2008
Posted 07:30 by Les
Atsushi Tanabe sends us another piece from his expanding portfolio of Indiana Jones sketches.

11 February 2008
Posted 18:00 by Les
A wonderful addition to our gallery by Atsushi Tanabe from Japan. Looks fantastic, wouldn't you agree?

10 February 2008
Posted 11:00 by Les
Two new additions today from Mark Martino.

UPDATED: New page added to showcase Mark's many pieces.

04 February 2008
Posted 18:00 by Les
Is it that everone around me can draw and paint - except me! Check out this pen and ink by Mitchell Hallock that he began in 1984.

21 January 2008
Posted 18:00 by Les
A wonderful surprise in my in-box today; a marker rendering portrait of everyone's favorite action hero. A big thanks to John Porubsky for this art piece.
09 January 2008
A new page has been added for works of Karen Hinson.
04 January 2008
We have a wonderful new submission from Jason Peltz. It is a hand-drawn piece, scanned and colored digitally measuring approx. 5x7 inches.
01 January 2008
A new page has been added for the talented Steve Anderson.




28 December 2007
A new piece by Adam McDaniel to finish off 2007 with a bang. Adams adds "You can see how I did the painting on the this webpage".

Thanks Adam for the great addition to our art gallery!!

15 September 2007
Another inspiring piece by Gabe Farber has been added to his page.

04 March 2007
New commisions by Gabe Farber have been added to his page. I'm proud to say that I now own four of this talented artist's work.

23 February 2007
A new piece by Adam McDaniel. Adam writes "It's been six years since I last painted Indiana Jones, so over the past weekend I whipped up (sorry -- bad pun) some new artwork for your review -- a mockup "teaser" poster for the upcoming INDIANA JONES film."

"Normally I'd spend a good week or month doing something like this, but this was a special drawing exercise with the intention of sketching, drawing, painting, and completing entirely within a 24-hour period. (thanks to an art class I took last year by none other than Drew Struzan!) I might do something a little more detailed and ambitious in the future, but for now... it's a "refined sketch".

Thanks Adam for the great addition to our art gallery!!




30 December 2006
Look what I got for Christmas! My friend Trevor (one of the kind souls that is part of the construction crew on Ravenwood - and also the very talented singer/songwriter with Jet Set Satellite) commissioned this from a local artist - and she's only 16!!

Justina Elias can be reached at justinaelias@gmail.com or you can visit her website.

26 July 2006
Our most recent addition is Jason Palmer. His work, be it Indiana Jones, Serenity or Battlestar Galactica, is mind-boggling. I had the chance to meet him in San Diego at Comic Con and cannot stress enough what a talented and great guy he is!

01 May 2006
Our most recent submission is from Nick (UK). This Indy fan that shows his fondness for Indy collecting through creating toys and action figures that were never made.

29 March 2006
Today's submission is from Gabe Farber - another Indy fan that shows his appreciation of his hobby through art. A self-admitted fan of Drew Struzan (who isn't?) - view his art and stare in wonder.

06 March 2006
We are surrounded by talent! Skilled with pencil and paint, Trevor Grove is now turning his artistic passion to sculpting. Check out our newly launched page dedicated to his fantastic Indy portfolio.

20 February 2006
I'm a huge Drew Struzan fan - but this is a close second! Check out the art of Paul Shipper, a freelance illustrator located in Manchester, UK.
All images posted are with full cooperation and permission of the artist(s).
Disclaimer
Copyright © 2006-2014 Les J. David. All Rights Reserved.