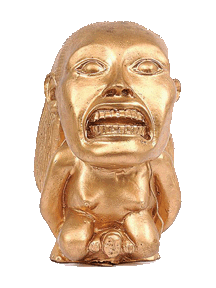 Art |Autographs |Collections |Forums |Library |Map
Other sites |

| Products |Prototypes | Trade Lists | Want Lists
21 February 2008
Click through to view all the Wave 1 action figures carded in hi-rez. Also includes the Deluxe action figures. Vehicles, playsets and 12" inch to follow shortly.

18 February 2008
A look at the Habro presentation in New York for Toy Fair 2008. Toys include 3.75" action figures, deluxe action figures, 12" figures (regular and talking), vehicles, playsets, Adventure Heroes, Taters of the Lost Ark, Mighty Muggs and Titanium figures.

Thanks to CoolToyReview.com for the images.

UPDATE: Some images removed at the request of Lucasfilm.

22 January 2008
This is the first picture of the upcoming INDIANA JONES
Mr. Potato Head - 'Taters of the Lost Ark'

UPDATED: Packaged picture has also become available


29 July 2007
These are the first pictures of the upcoming INDIANA JONES toys from Hasbro (as presented at SDCC 2007).
Disclaimer
Copyright © 2006-2008 by Les J. David. All Rights Reserved.