16 August 2015
Posted 19:30 by Les
I've been home from Terrificon (formerly Connecticut Comiconn at Mohegan Sun) for just over a day when I realized that I needed to share the adventure with our readers. Because I can promise you that when you are done reading you will want to have your own.
A little background is required to fully appreciate my story. TerrificCon is run by Mitchell Hallock (of IndyCast fame). He began it some years back and it has continued to grow and prosper each year. Mitch made the brave jump to a huge new venue this year- the Mohegan Sun casino just outside Hartford.
Mohegan Sun is an amazing facility. It is huge, has free parking and Wifi, and offers an incredible selection of shop and restaurants. Oh – and it has a cazillion slot machines, etc if gambling is your thing. Everything about my stay there was top notch – from check-in to entertainment to eating. Two thumbs up from this happy traveler.
I arrived Thursday, checked in and went to find Mitch to introduce myself. While we've been pen pals (and travel in the same Indiana Jones circles) we've never met in person. I found him in the main room coordinating the set-up and dealer move in. I've done more than my fair share of these shows and was immediately impressed with organization and professionalism of both Mitch and his wife Sharon.
As I walked around helping out where I could I took the opportunity to eavesdrop on dealers as they set-up their booths. And do you know what I heard? Praise. And lots of it. Lots of comments about Mitch's ethic, the amazing venue, how well they were going to do. And the few that had small problems? More praise as to how they knew Mitch would make it right. That Mitch's shows were a must-do. You can't go wrong doing a Mitch Hallock show.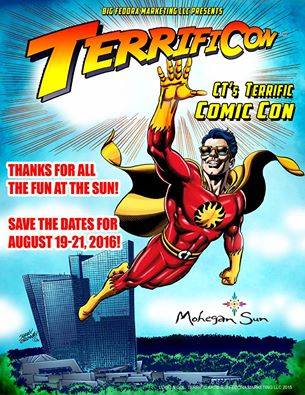 Based on that I was glad I helped Mitch secure Ke Quan (Indiana Jones, The Goonies) as a guest. Ke had asked me if it was a show he should do (and trust). And although I had never met Mitch Hallock I did have his reputation to go by. And so I had answered yes. I never regretted it.
I volunteered to join the team and spent the next day and a half helping out. And the best part? I was made to feel part of the family. Mitch, Sharon, their sons and all their friends made it one of the most memorable and enjoyable conventions I've ever attended. The vibe is incredibly wholesome and welcoming. Everyone (and there were a LOT of people on sold-out Saturday) was having fun. If things weren't running smoothly I (and the general public) never knew it. Because it was like visiting Disneyland – you had no idea where the magic was coming from (or how) but it was great to be surrounded & embraced by it.
Thank you Mitch and Sharon for allowing me to be part of your magic if only for 2 days. And to you my readers – do yourself a favor and plan to visit Connecticut this time next year and take in the magic that is Mitch Hallock's Terrificon